Our Story
An adventure expanding across two continents
One of the most well-known tales by Kipling tells the story of an English nobleman who is riding his horse along an exotic Indian path. He is accompanied by his future wife, heading towards the most exclusive place in the town : Peliti's Restaurant. Who was Federico Peliti? He was a confectioner, entrepreneur, sculptor and photographer from a region in Northern Italy called Piedmont.
The English and the men and women of western high society used to meet at his restaurant in India. They were fascinated by its magnificent reception halls, and while sipping Peliti's vermut which had made its inventor famous in two continents, they admired Peliti's sophisticated "architectural" cakes.
In 1877, Peliti's vermut was produced for the Prince of Wales,Edward VII and it received gold medals at the international exhibitions in Turin, Paris and Calcutta. The secret of its success was due to its recipe: a mixture of well-blended Indian spices and Piedmontese flowers with bitter notes of absinthe combined with the sweetness of passito muscat. A flavour which combined tradition and exoticism, in other words a flavour which was the mirror of its time; a sort of manifesto of a "Belle Epoque", whose wave of progress and wealth would subsequently be shattered by the harsh reality of the world conflicts.
At the end of the World War II Peliti's name was forgotten, but today,in the second millenium, we have brought Peliti's myth back to life again through the original recipes of his vermut which unaltered , preserve the flavours of their past.
Find out more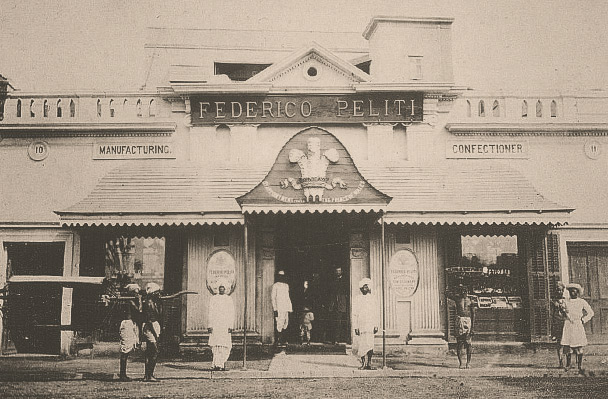 Peliti confectioner's shop in Calcutta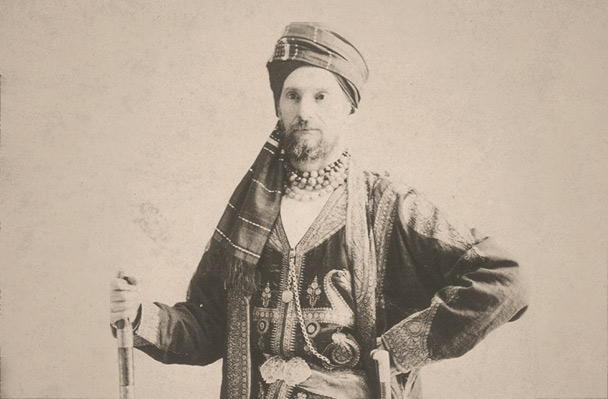 Federico Peliti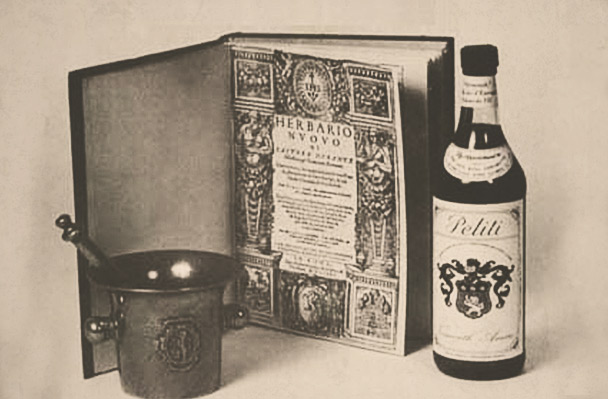 Peliti's vermut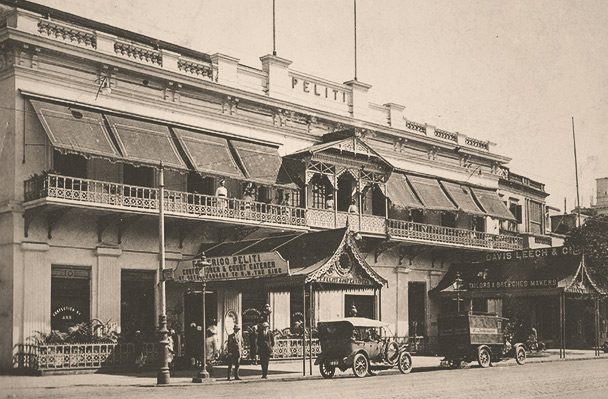 Peliti's restaurant in Calcutta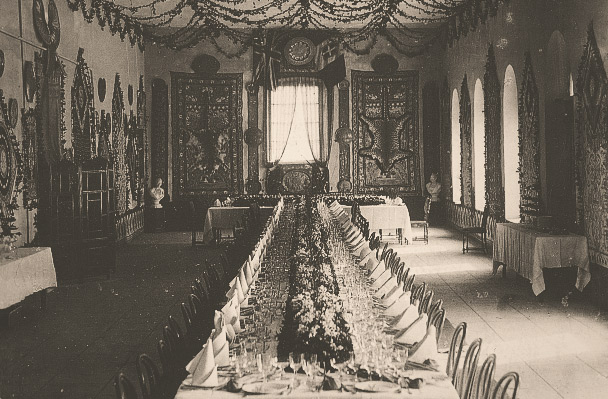 Banquet room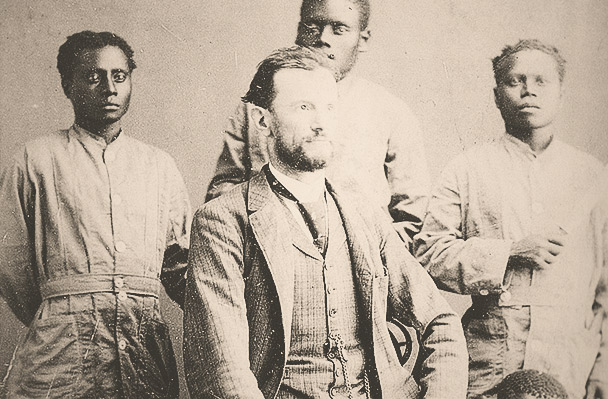 Federico Peliti
Vermout
The original recipes for His Majesty King Edward VII.
We have selected two from more than 40 recipes, created along years of research. The rouge vermut is the one based on the recipe made for the British Royal House from 1877 to 1940. Whereas the blanc vermut has its origins in an exotic recipe, created in the later years of Peliti's commercial activity in India.
XXII FORMVLA
Rouge
Content
Abv
Weight
Height
Box
75 cl
17 Vol
1,30 kg
31 cm
6 bott
XXXVII FORMVLA
Blanc
Content
Abv
Weight
Height
Box
75 cl
16 Vol
1,45 kg
26 cm
6 bott
Our Recipes
Our range of products
Federico Peliti devoted his entire life to an ongoing research. His need to capture instants, emotions, scents and flavours is evident in his his photo plates, his sculptural works, and in his recipes. He never stopped experimenting , blending exotic flavours which he came across in his travels with those of the Piedmontese tradition. His vivid sensory exploration led to a collection of 40 recipes.
We have explored and reproduced this heritage in order to offer you the excellent quality of the past.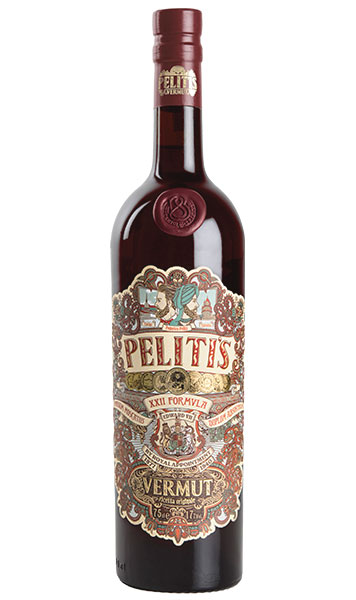 XXII FORMVLA
Rouge
Recipe XXII was for over sixty years the trademark of this vermut made with Muscat wine. The recipe was originally created for the British Royal House. It is characterized by an aromatic combination of citrus, elder and gentianella gracefully balanced with the bitter taste of absinth and quassia.
The only change which has been made to the original recipe is the colour of the product in order to improve its quality .
| | |
| --- | --- |
| Bitter | |
| Aromatic | |
| Bitter-Arom. | |
XXXVII FORMVLA
Blanc
Recipe XXXVII is one of the most elaborate recipe from Peliti's recipe book. It is characterised by a flowery flavor. The colour of the Indian spices is combined with the bitterness of double absinth. The Muscat wine from Piedmont and the exotic flavors of its ingredients make it a unique product, totally different from other artisanal vermuts.
Our high quality bottles are packed in tube boxes. Elegant wooden wine boxes are also available on demand
| | |
| --- | --- |
| Bitter | |
| Aromatic | |
| Bitter-Arom. | |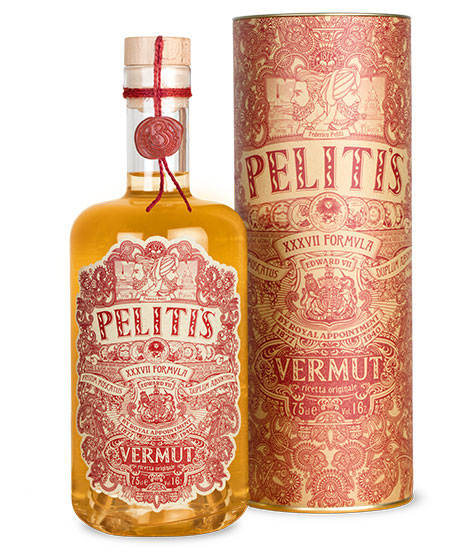 I tumbled off my horse and dashed, half fainting,
into Peliti's for a glass of cherry brandy.
There two or three couples were gathered round
the coffee-tables discussing the gossip of the day...
Rudyard Kipling
Federico Peliti
An Italian at the Court of Queen Victoria in India.
Federico Peliti came from a family of engineers , architects and builders from Valganna ( Varese) in the north of Italy. In the second half of the 18th century the family moved to Carignano near Turin to attend to the construction of the town cathedral. Federico Peliti studied sculpture under Vincenzo Vela and in 1865 he graduated from the Accademia di Belle Arti in Turin. He then took part in the Third War of Italian Indepedence as a light cavalryman in the Nizza Cavalleria. In 1867-1868 he dedicated to confectionery decoration , which was in great demand at the time.
In 1869 after winning a confectionery competition in Turin he left for India to be caterer to Lord Mayo the Viceroy of India . After Lord Mayo's assassination, he opened his first shop in Calcutta in partnership with Thomas O'Neil and three years later he moved out on his own into larger premises at 18 Chowringhee. In 1881 he eventually bought a sumptuous location at 10-11 Esplanade East.
To the confectionery shop he added a restaurant which would become the favourite meeting place of the English and of the important people at that time, who either resided there or who 5 were temporarily visiting India. Moreover, Peliti was famous for organizing banquets which took place either at his restaurant or in faraway lands , such as Burma where he prepared a dinner in honour of the Prince of Wales in 1891.
On these occasions , when travelling by ship or train, Peliti would bring everything with him from tables, china and silverware to food ingredients and utensils needed to prepare and serve the various courses . In 1881, Peliti had a grand residence built at the top of a wooden hill in Shimla , the summer capital of British India . It was named Villa Carignano after his birthplace. It became the exclusive and fashionable meeting-place of the colonial entourage. Some remains of the villa are still visible today and the area is called Craignano.
The name of Carignano is also mentioned in Anita Desai's novel "Fire on the mountain". In Shimla, Peliti opened the famous Grand Hotel and a restaurant called the Regent House which is mentioned in Kipling's short story "The Phantom Rickshaw". In 1884 Peliti set up a factory in his hometown Carignano which produced canned fruits and vegetables so that his hotel and restaurants were well supplied. He also set up a distillery to produce his vermut for the Royal House and for the Prince of Wales Edward VII.
Gold medals and other honours were awarded to Peliti business , at international exhibitions in Paris, and Calcutta. Three gold medals were awarded to Federico Peliti at the Italian National Exhibition in Turin 1898 for his excellency in food products and liqueurs. Peliti had a number of Italian pupils of confectionery arts for instance Firpo from Genoa as well as Chiesa and Bonaglia from Gassino.The former worked in Shimla whereas the latter two in Rangoon and Calcutta , Cornaglia too worked with him. He was Peliti's cousin who followed him to India at the time of Lord Mayo.
In 1902, after the inauguration of his new confectionery shop , Peliti passed down the family business to his sons , who were born from his marriage to Judith Molloy , daughter of a British officer. Federico Peliti moved to his beautiful house in Carignano near Turin, decorated with frescoes by the painter Paolo Gaidano. It was there that he eventually died in 1914.
Peliti's Photographs
Everything she wanted was here , at Carignano, in Kasauli. Here, on the ridge of the mountain, in this quiet house.
Anita Desai
Contacts and Information
Peliti's Vermut is a product of Amarot srl.
Contact us
Please use our contact forms